O Lord! We dedicate to You, with utmost reverence and humility,
what is actually Yours.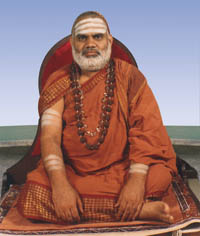 [ Since 1989 ]
Welcome to the website dedicated to His Holiness Jagadguru Sri Bharathi Theertha Mahaswamigal, the present pontiff of the Dhakshinamnaya Sri Sringeri Sharada Peetham. Sri Sringeri Sharada Peetham was the first and foremost Peetham established by Adi Shankaracharya. In the unbroken line of succession of the Sringeri Sarada Peetham commencing from the great Sri Shankara Bhagavatpadal, Sri Bharathi Theertha Mahaswamigal is the 36th pontiff. His Holiness is a rare sage of astonishing spiritual accomplishments and yet simple-hearted; extremely fierce in dispassion and yet compassionate to the core; a true master of the Sastras and Vedas and yet humble and ever ready to learn. No wonder the devotees experience ever-lasting peace in His presence, hear the voice of the Sastras in His teachings and derive immense benefit from His benevolent blessings.